HPLC & LC/MS Webinars - Tips & Tricks 2021
Learn from experienced analysts who brought you many valuable tips in the field of liquid chromatography (HPLC) and mass spectrometry (MS) through 58 webinars in 2021.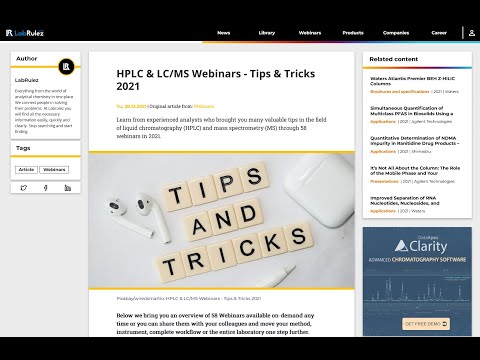 Pixabay/wiredsmartio: HPLC & LC/MS Webinars - Tips & Tricks 2021
Below we bring you an overview of 58 Webinars available on-demand any time or you can share them with your colleagues and move your method, instrument, complete workflow or the entire laboratory one step further.
Details and direct registration link can be found in the Webinars section.

In the database you will find more than 1,500 GC, LC and MS Webinars, you can search and filter by many TAGs such as HPLC, LC/MS, 2D-LC, GPC/SEC, Columns, IC, Sample Preparation, Ionic Mobility, LC/HRMS, MALDI, PrepLC, SFC, SPE and many more ...
Phenomenex: Column Care 101 (16.12.2021)

Phenomenex: Antibody Characterization - Intact Mass & Fragment Analysis Through Widepore Reverse Phase Chromatography (14.12.2021)

Phenomenex: Scaling for Efficiency and Throughput – LC Method Optimization with Notes on Selectivity and Preparative LC (7.12.2021)

Agilent Technologies: Agilent's Hidden Gems (10.11.2021)

Waters Corporation: Maximizing Hydrophilic Interaction Chromatography (HILIC) Selectivity for Quick and Easy Methods Development (9.11.2021)

Phenomenex: HPLC Mobile Phase Optimization (2.11.2021)

VWR: Chromatography Mini Symposium (2.11.2021)

Phenomenex: An Introduction to HPLC/ UHPLC Method Scaling (28.10.2021)

Phenomenex: How Column Handling and Storage Affects Performance and Lifetime (26.10.2021)

PerkinElmer: LC-MS Tips & Tricks (25.10.2021)

C&EN/MAC-MOD Analytical: Some Suggested Practices for the HPLC and UHPLC Laboratory (14.10.2021)

Waters Corporation: Practical Approaches: Reversed Phase and Reversed Phase/Anion Exchange Chromatography as a Familiar Technique to Polar Challenges (13.10.2021)

Agilent Technologies: Troubleshooting Fundamentals (7.10.2021)

Waters Corporation: Chromatography Declassified: Uncovering the Secrets of Method Robustness Part 3 (5.10.2021)

Agilent Technologies: ChromTalk Episode 8: Is this instrument or analytical method issue? - Retention time variation/ Shift, Area variation/ shift (1.10.2021)

The Analytical Scientist/Pall/Phenomenex/SilcoTek/VICI - Valco: The Extreme HPLC Technology Forum (30.9.2021)

Waters Corporation: Save Time and Money with Waters Session 8: LC Method Migration: Moving methods to newer LC assets within or across labs (23.9.2021)

Agilent Technologies: HPLC Connections — Fittings and Flow Path (22.9.2021)

SelectScience/Agilent Technologies: HPLC: How to increase productivity and reduce downtime (20.9.2021)

Phenomenex: Reversed Phase HPLC Method Development: A Selectivity Perspective (15.9.2021)

SCIEX: SCIEX Biopharma meeting - Day 3: Therapeutic proteins (9.9.2021)

SCION Instruments: Root Cause Analysis and Common Troubleshooting in Liquid Chromatography (8.9.2021)

Agilent Technologies: A Guide to Updating HPLC Compendial Methods in Pharmaceutical Analysis (8.9.2021)

Thermo Fisher Scientific: Ion chromatography – Ask the Experts (6.9.2021)

Phenomenex: Size Exclusion Chromatography: How to Select an SEC Column and Optimize a Method (24.8.2021)

Agilent Technologies: Accurate and Simple Quantification of THC and CBD in Beverages Containing Microemulsions (17.8.2021)

Agilent Technologies: Too Polar for Reverse Phase: What Do You Do? (17.8.2021)

Phenomenex: HPLC Column Care & Extending Column Lifetimes (17.8.2021))

Agilent Technologies: It's Not All About the Column; Sample Prep and Containment (28.7.2021)

Phenomenex: HPLC Troubleshooting — Identifying, Solving and Avoiding Problems (13.7.2021))

Separation Science/Waters Corporation/Hichrom: What It Takes to Achieve a Good Chromatography – Selecting the Right Column Chemistries and Mobile Phase (13.7.2021)

SelectScience/Phenomenex: The power of (U)HPLC selectivity for diverse pharmaceutical methods (30.6.2021)

Waters Corporation: Our favorite productivity tools for staying ahead in LC-MS/MS food testing workflows (22.6.2021)

Waters Corporation: Chromatography Declassified: Uncovering the Secrets of Method Robustness Part 2 (22.6.2021)

Thermo Fisher Scientific: HPLC reproducibility and what will kill it (17.6.2021)

Agilent Technologies: It's Not All About the Column: The Role of the Mobile Phase and Your Instrument (14.6.2021)

SelectScience/Waters Corporation: Optimize IP-RP method development for oligonucleotide analysis (4.6.2021)

SelectScience/Phenomenex: Improving the sensitivity of LC-MS methods for characterization and quantitation of synthetic oligonucleotides (2.6.2021)

Dr. Maisch High Performance LC: Ion Exchange and Mixed-Mode HPLC in Pharma & Food Analysis (31.5.2021)

Agilent Technologies: Eliminate the Fear in Agilent LC/MS System Maintenance & Troubleshooting (27.5.2021)

Agilent Technologies: Helpful 'hints' for Protein SEC Success (27.5.2021)

Waters Corporation: Pharma in MOTION - Day 3: Analytical Method Development (AQbD) & Oligonucleotide Analysis (26.5.2021)

Phenomenex: Strategies for Improving Chromatographic Resolution (25.5.2021)

Agilent Technologies: Fundamentals of Turning Liquid Into Ions: The basics of Agilent LCMS ion sources and how to choose the best source for your Compounds (12.5.2021)

Agilent Technologies: Why Good Chromatography Matters for LCMS (6.5.2021)

VWR: Mini-symposium: Method development strategies and devising solutions for nitrosamine analysis (29.4.2021)

Phenomenex: Proper Method Scaling to Achieve Your UHPLC and HPLC Goals (27.4.2021)

C&EN/Advanced Materials Technology: Reversed phase liquid chromatography: fundamentals and strategies for faster method development (27.4.2021)

Phenomenex: LC Method Development and Problem Prevention for Pharmaceutical Methods (21.4.2021)

Agilent Technologies: Method Development & Optimization Workshop (21.4.2021)

Agilent Technologies: WHO Do I Turn To? Chromatography Resources (15.4.2021)

Phenomenex: Understanding Ion-Exchange Selectivity In Biomolecules Analysis (31.3.2021)

Waters Corporation: Waters LC Symposium - Pharma (23.3.2021)

Phenomenex: Improving LC Performance Through Optimization of Complementary Governing Method Components (18.2.2021)

C&EN/Eurofins: A Scientific Journey of a Niche API Achieving Breakthrough Status by the FDA for a Lifesaving Drug for Infants (17.2.2021)

Agilent Technologies: Method Development for Multi-class, Multi-residue Analysis in Matrices (10.2.2021)

Phenomenex: Determining a Rational HPLC/UHPLC Selectivity Starting Point (28.1.2021)

Restek Corporation: Comparing HPLC With UHPLC (21.1.2021)