HPLC & LC/MS webinars Week 3/2022
This week 10 HPLC & LC/MS webinars: Native MS, Sugar analysis, SLIMS, PFAS in serum, OpenLab, Beyond UHPLC, Empower and Data Integrity, Cannabis, HPLC columns.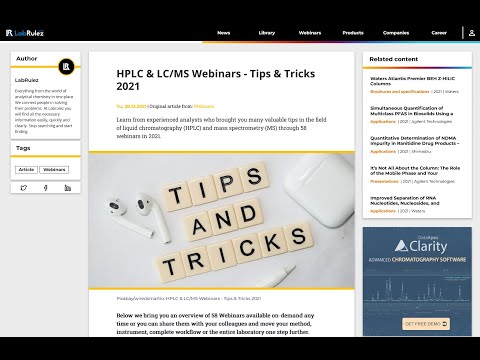 Foto: LabRulez: HPLC & LC/MS webinars Week 3/2022
Video: LabRulez: HPLC & LC/MS Webinars - Tips & Tricks 2021
In the week from January 17, 2022, the following webinars await you in the field of HPLC and LC/MS.
👉 Search and filter in more than 1 500 GC, LC nad MS webinars.
LabRulez: HPLC & LCMS webinars overview Week 3/2022
1. Thermo Fisher Scientific: Native MS for intact protein analysis (moved to February 15)
Spatially resolved native MS analysis of protein complexes using nano-DESI & Native MS enables elucidation & Connecting Proteoform Diversity to Receptor Function using Native Top-down Proteomics.
2. Thermo Fisher Scientific: Sugar analysis – the sweet taste of success using HPAE-PAD
This technical spotlight talk will uncover why high performance anion exchange with pulsed amporemetric detection (HPAE-PAD) is a robust, sensitive and selective technique for analyzing carbohydrates.
3. Agilent Technologies: Ramp up your COVID test operations quickly with Agilent SLIMS
Tools such as laboratory information management systems (LIMS) and electronic laboratory notebooks (ELNs), among other solutions, can help mitigate the impact on life in the lab.
4. KNAUER: Dosing pumps
We will be exploring the technology behind our wonder pumps and taking a closer look at the applications - such as polymer production, microfluidics and the dosing of chemically aggressive substances.
5. SelectScience/Agilent Technologies: Clinical analysis of perfluoroalkyl substances (PFASs) in human serum by LC-MS/MS using Captiva EMR-Lipid cleanup
This webinar will describe serum sample preparation and LC-MS/MS analysis of PFASs using protein precipitation followed by PPL removal using the Agilent Captiva EMR-Lipid cartridges.
6. Agilent Technologies: Tips and Tricks working with HPLC and OpenLab CDS Software
This seminar will give an overview of OpenLab CDS from the HPLC Chromatographers perspective.
7. Agilent Technologies: ChromTalk Episode 11: Is Chromatography Evolution over with UHPLC? – Going beyond UHPLC
In this ChromTalk episode, we will discuss overall evolution of chromatography and what lies beyond UHPLC for complex separations?
8. Waters Corporation: Empower Tips: Ask Me Anything About Durable Data and Intrinsic Compliance
The global best practices for data governance and how to achieve robust data integrity within the complexities of balancing people, process and technology and across the complete data lifecycle.
9. Technology Networks/Phenomenex: The Analytical Landscape of Cannabis Testing - Session 1: Potency Testing
In this webinar we will show practical chromatographic separations of 18 cannabinoids with flexibility across HPLC and UHPLC platforms in a simple, isocratic workflow.
10. Phenomenex: HPLC Method Development: Practical Approaches for Identifying Equivalent and Orthogonal Columns
Identify columns with similar selectivity and different or orthogonal selectivity to your current column of choice. Understand the resources that are available for selectivity data for HPLC columns.